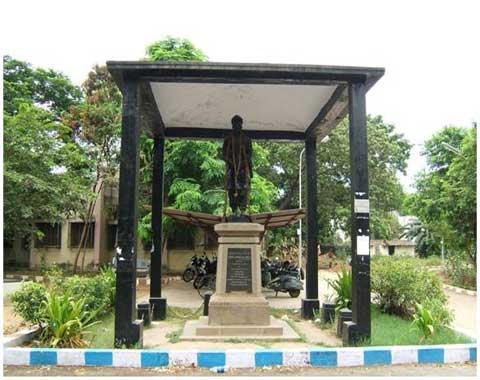 Vaidhyarathinam Dr.SRINIVASAMURTHI
Dr.Srinivasamurthi, a doyen in the field of Indian systems of Medicine, was the personal physician to the erstwhile MahaRaja of Panagal. He owned the entire area now housing the Kilpauk Medical College and Hospital, Dr.Srinivasamurthi was instrumental in creating in the public mind, an awareness to the potentialities of the indigenous systems of medicine and so also he appraised the Maharaja for instituting the School of Indian Medicine. The Raja was so overwhelmed and with joy he donated the entire piece of land under his command and thus was born in 1925, the School of Indian Medicine. The horse stable of his, now presents as the Anatomy Department.Dr.Vaidhyarathinam Srinivasamurthi, was the first principal of the institution. Smt.Rukmani Lakshmipathi, the popular Minister of Public Health raised the status of the institution in 1947 and has risen to its present glory. In fond remembrance of the glory of Vaidhyarathinam, Dr.Srinivasamurthi, his statue has been established inside the campus of Kilpauk Medical College.
GOVERNMENT PEREPHERAL HOSPITAL
Annanagar, Chennai 600 102
The Government Peripheral Hospital at Annanagar was started in the year 1979 with 100 beds to reduce the overcrowding in the Kilpauk Medical College
Hospital and situated at the periphery. General Medicine, General Surgery, Paediatrics and Obstetrics and Gynaecology departments with Radiology and Microbiology units were initially established.
In 1986 the Department of Digestive Health Diseases was started.
In 1994 the Department of Surgical Gastroenterology was started.