Community Medicine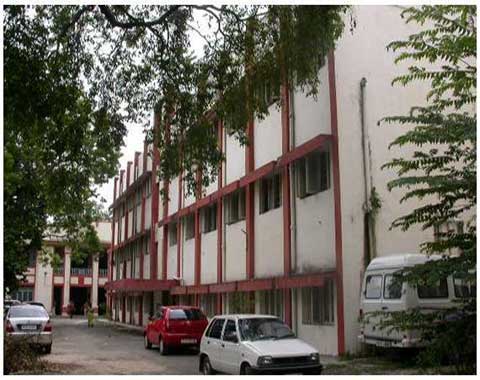 Community Medicine department is housed in this block which is one of the oldest structures built in the year 12.01.1976
Academic Activities
The department functions with a mission of empowering medical students with attitudes and skills to reach everyone, including the unreached, with health care that is managed efficiently.
Towards achieving this goal the department is involved in the training of following batches
| | |
| --- | --- |
| | I MBBS -Theory 30 hours, Field visit 30 hours |
| | II MBBS -Theory 56 hours, Practicals 144 hours |
| | III MBBS -Theory 52 hrs, Practicals72 hrs |
| | CRRI for internship – 2 months |
| | DMLT students - Theory & Practicals |
| | Nursing Assistants - (Male & Female) - Theory 30 hrs |
The students are trained in the following topics through lectures tutorials, seminars, demonstrations and practical field activities.
Disease Control
Natural history, Medical care, Prevention and Rehabilitation of diseases of Public health importance are given extra attention. Disease surveillance is explained with respect to standardized case definition, ensuring completeness of coverage and reliability of data, transmission and transformation of data. An overview of international health is also given.
Biostatistics
Since health information from the community is studied in large numbers, training in biostatistics, epidemiology and evaluation techniques is done as tutorial and practicals.
Behavioural change communication is an essential component for ensuring health of the community. Students are given hands – on experience in communication skills by participating in health communication sessions in the community.
Health care system is elaborated with field visits arranged to the various health care institute primary health centres, health sub centre, urban health posts, communicable disease hospital etc.
Management skills : This is the only department which offers training in management skills that is very essential for achievement of objectives through efficient use of men, money and materials.
The Department has the following three Primary health centers- Nandhivaram, Kelammbakkam, Porur, attached to it. Padi urban health post has been adopted under National Rural Health Mission (NRHM) programme. Baseline survey has been conducted. Speciality clinics, managed by specialists from Kilpauk Medical College are organized since November -2009. Screening for Cancer Cervix is done using VIA technique by trained staff of the health post.
Research Activities
| | |
| --- | --- |
| | Training needs regarding diabetic care at primary care level among CRRI is an ongoing study with the active participation of the II MBBS of students. |
| | Health education session at Padi Health post followed by case finding for Hypertension. |
| | Risk factors for Pregnancy induced hypertension – a community based study from a village in Porur. |
| | Study on Constraints of Biomedical waste Management in KMCH |
| | Study on Drug asequacy at Urban Health Centre Padi. |
Scope of the specialty
It sensitizes the student to realize they are a part of a large whole, the society they live in - its functioning directed both at uplifting its wellbeing and detrimental to its own good. This broad picture helps them metamorphosis into a public health officer, administrator, Analyst of problems and Specialist in Health Advocacy.
| Name | Designation | Category |
| --- | --- | --- |
| Dr.K.Mary Ramola | Professor & HOD | Teaching |
| Dr.P.Saravanakumar | Associate Professor | Teaching |
| Dr.S.Suganthi | Associate Professor | Teaching |
| Dr.K.Sathish Kumar | Epidemiologist cum Assistant Professor | Teaching |
| Dr.J.Elizabeth Varakumari | Assistant Professor | Teaching |
| Dr.R.Subhalakshmi | Assistant Professor | Teaching |
| Dr.A.R.Adhilakshmi | Assistant Professor | Teaching |
| Dr.J.Valarmathy | Tutor | Teaching |
| Dr.M.Malini | Tutor | Teaching |
| Dr.C.Kalichelvan | Tutor | Teaching |
| Dr.M.Subbulakshmi | Tutor | Teaching |
| Mrs.R.Rasigapriya | Lecturer in Statistics | Teaching |
| Mr.S.Gangadharan | Lecturer in Health Education | Teaching |
| Dr.Ramprasath.S.B | Medical Officer, RHTC | Non-Teaching |
| Dr.Ashvitha.S | Medical Officer, UHC | Non-Teaching |
| Dr.Anitha.A.G | Lady Medical Officer, RHTC | Non-Teaching |
| Dr.Shyamala | Lady Medical Officer, UHC | Non-Teaching |
| Mrs.Amritha D'cruze | Medical Social Worker | Non-Teaching |
| Mr.Thiyagarajan | Health Inspector Grade I | Non-Teaching |
| Mr.Mohan | Entomologist | Non-Teaching |
| Mr.Kumar | Technical Assistant | Non-Teaching |
| Mrs.Umamaheshwari | Store Keeper | Non-Teaching |
| Mr.Adam Star Anburaj | Laboratory Technician | Non-Teaching |
| Mrs.Komalavalli | Data Entry Operator/ Record clerk | Non-Teaching |
| Mr.Naveen | Driver | Non-Teaching |
| Mrs.Honesty | Sweeper | Non-Teaching |
| DR.GOPINATH M.B.B.S | Tutor | Teaching |
| Name | DATE | Venue | NoParticipants | Resource | Level |
| --- | --- | --- | --- | --- | --- |
| WORKSHOP ON DEVELOPING SCIENTIFIC PROTOCOL FOR EFFECTIVE RESEARCH | 22.01.2020 | Seminar hall-Govt.Kilpauk Medical College | 40 | Dr.K.Mary Ramola, Dr.S.Suganthi, Dr.K.Sathishkumar, Dr.J.ElizabethVarakumari Dr.R.Subhalakshmi, Dr.A.R.Adhilakshmi | Institutional level |
| Name | Date | Description |
| --- | --- | --- |
| Dr.K.Mary Ramola | 15.8.2020 | Outstanding dedication as Covid Warrior |
| Dr.S.Suganthi | 26.01.2021 | Appreciation of tireless service as Covid Warrior |
| Dr.K.Sathish Kumar | 26.01.2021 | Appreciation of tireless service as Covid Warrior |
| Dr.J.Elizabeth Varakumari | 26.01.2021 | Appreciation of tireless service as Covid Warrior |
| Dr.R.Subhalakshmi | 26.01.2021 | Appreciation of tireless service as Covid Warrior |
| Dr.A.R.Adhilakshmi | 26.01.2021 | Appreciation of tireless service as Covid Warrior |
| Dr.D.Priyadharshini | 26.01.2021 | Appreciation of tireless service as Covid Warrior |
| Dr.M.R.Jeeva Priya | 26.01.2021 | Appreciation of tireless service as Covid Warrior |
| Dr.D.Amutha | 26.01.2021 | Appreciation of tireless service as Covid Warrior |
| Dr.S.Ravi | 15.8.2020 | Outstanding dedication as Covid Warrior |
| Dr.K.Anitha | 26.01.2021 | Appreciation of tireless service as Covid Warrior |
| Dr.S.Mukilan | 26.01.2021 | Appreciation of tireless service as Covid Warrior |
| Dr.R.Vasanth | 26.01.2021 | Appreciation of tireless service as Covid Warrior |